Do you have a book lover in your life with a birthday coming up? Or, are you getting ready for Christmas a little early this year? I may or may not have just spent the last hour scouring through Etsy's "Gifts for Bookworms" collection (if you want to go through all of it too, you can check it out
here
). Here are a few ideas from around the web: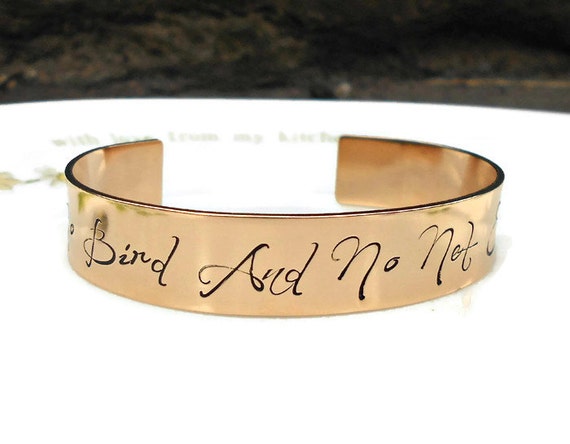 1. This beautiful hand stamped, solid brass cuff bracelet reads "I am no bird and no net ensnares me" from Charlotte Bronte's

Jane Eyre

. You can find this cuff and several other

hand-

stamped quote jewelry pieces at the

Wicked Wordsmith Co.

on Etsy.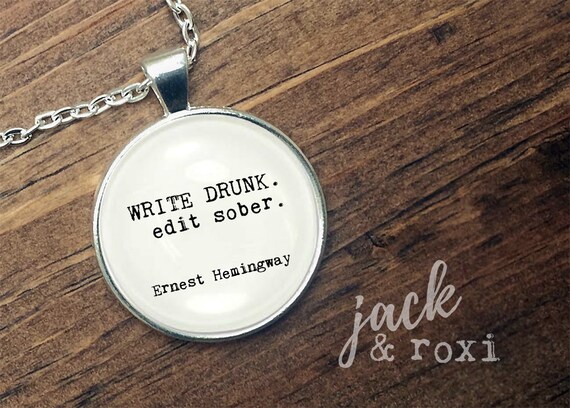 2. Before searching the Internet for literary gifts, I had never heard this quote from Ernest Hemingway. Did he actually say that? Who knows, but I like the idea of writing drunk and editing sober – I bet a lot of great fiction gets started that way. This pendant necklace can be found on Jack and Roxi's Etsy shop.
3. The "BookBook" for your favorite book lover's Macbook. This handmade leather case is made in various sizes for all six-hundred-billion versions of the MacBook you can find (I'm sure you can fit other laptops in them as well), and it comes in two beautiful shades – a rich, textured red, and this classic brown leather. You can find them online at Twelve South.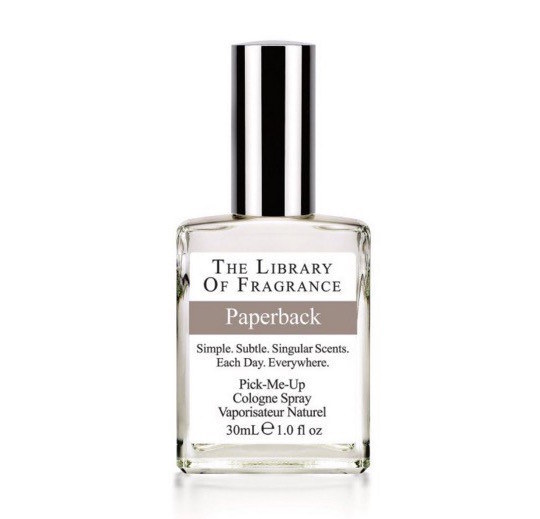 4. Are you SERIOUS right now?! Who knew they made this in cologne form, and why were they hiding it from me all these years? Forget book lovers, this is going to the top of my husband's Christmas list, whether he likes it or not (picture a seductive eyebrow wiggle here). You can find this paperback scented cologne on Amazon.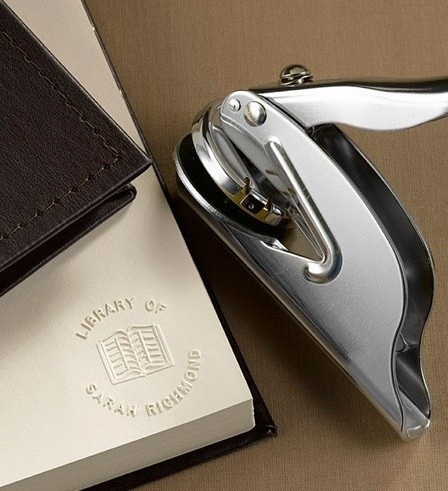 5. Whoa. I always write my name in my books (and sometimes create original artwork related to the theme of the book), but I never considered
embossing the pages
. What a great idea! Interested in getting one for the book lover on your list? Check them out
here
.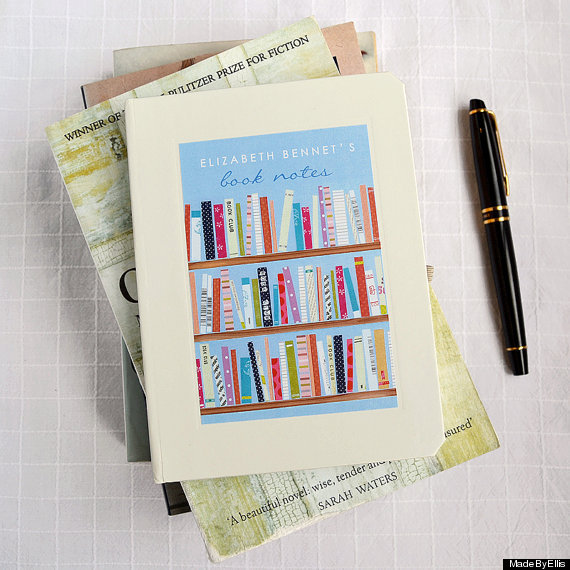 6. As a book review blogger, taking notes while I read is a must. As a graduate of the Department of English (including a few publishing courses) at my college, writing down the page numbers of typos and misspellings is just second nature. I love the idea of having a pocket-sized journal to keep these notes together and organized.
7. I may not be a teacher, but if I ever do decide to become one, this will be the first thing I purchase to hang on the wall of my classroom. I love seeing all of these brilliant authors in one place! I was surprised that it's actually pretty cheap on Amazon.
8. I have a set of petrified wood bookends that I just adore – my grandparents brought them to me from Arizona. Since I got them, I have wanted to add interesting bookends to each level of my bookshelf, but haven't found exactly what I wanted... until now. These polished agate geode bookends are beautiful, and affordable to boot! I can't wait to rearrange my bookshelf with these, now!
9. I love games, and I love to write short stories. What could be better than combining the two to combat writer's block, waste time when you should be working, or to pass the time at a dinner party with friends? Honestly, if I were to get this game, I think I might create a new page on this blog and write an entry for each card. Ooooh, NEW GOAL. Does anyone want to get The Storymatic for me? *wink*
10. Okay, so this is actually designed for kids, so they can keep track of the time they spend reading toward a time goal... but I think it would be fun to see exactly how long it takes for me to read a book! I LOVE this idea! This is called a Mark-My-Time Digital Bookmark, and you can get it on Amazon. There are also other varieties to look through!
What's your favorite literary loot from around the web? Share in the comments below!